THE BEST COMMERCIAL ROOFING COMPANY
IN KANSAS CITY is Shamrock Roofing!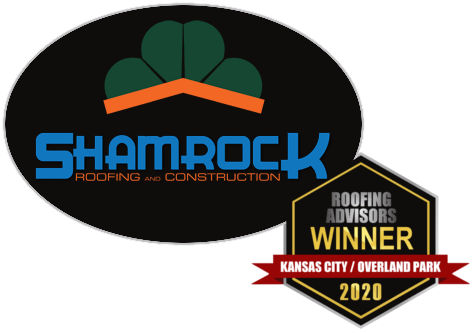 Roofing Advisor's Featured Commercial Roofing Company in KC:
Shamrock Roofing and Construction
Shamrock Roofing is a residential, industrial, institutional, and commercial roofing company servicing the entire Kansas City metro area and is headquartered in Lenexa, KS. The professional roofing contractors have an A+ Rating with the Better Business Bureau and several 5-Star reviews on Google. With 42 years in the construction and roofing industry, becoming known as one of the best commercial roofers of 2020 was literally only a matter of time. This company only uses the highest quality commercial roofing products and is licensed, bonded, and insured in Missouri, Kansas, and Nebraska.
Commercial Roofing Services
F
or potential buyers of industrial properties, a commercial roofing inspection is of the utmost importance. The roof report could hold information on problem areas that could cost you a lot of time and money down the road. Before buying a new addition to your commercial building portfolio, we highly recommend you review this report and understand the following key points: age of roof, remaining lifespan, type of roof, and any previous repairs. It might also be good to note the number of layers and pitch of your roof.
For new roof construction, a commercial roof inspection will make sure that everything was done right the first time. While most commercial roofers don't necessarily check for code violations, you can simply ask them to do so and the contractor should be able to oblige. New commercial roofs can often be deceiving in that they may look great to the naked eye, but could have several problems lying underneath.
For current owners of industrial and commercial buildings, roof inspections are a great way to keep your long-term expenses down. By identifying potential problem areas and initiating a maintenance schedule, you reduce the likelihood of splitting, standing water, ventilation problems, lifted shingles, holes, shrinking, and other safety issues.
F
or owners of industrial and commercial properties roof maintenance is one thing that can not be overlooked. Overlook this and trust me you'll be wishing you hadn't when you see your estimated repair bill from the commercial roof inspector.
Be proactive about maintaining your industrial or commercial roof by taking the necessary steps to keep small problems from turning into big ones down the road.
Even for new roofs, preventative maintenance is key. Many owners of new roofs may think that because they have a new roof that maintenance is not an issue they need to be concerned with, when in fact it is. Living in the Kansas City, Missouri area comes with its ups and its downs. But one thing is for sure, we get some of coldest and harshest winters around. It gets extremely cold and extremely hot. This is a recipe for disaster of commercial building owner.
Neglecting to be proactive with your commercial roof maintenance can allow for the tiniest of problems to turn into huge irreversible costly problems down the road.
If you don't want to cough up an arm and a leg later on down the road then make sure you stay on top of the upkeep on your roof.
For owners of industrial buildings roof repair is something that is inevitable sometime in the future. We have helped countless office buildings, hospitals, warehouses, etc. with repairs on flat and low-slope roofs as well as with new construction and even flat roof repair and re-roofs.
Our commercial roof repair process will consist of doing a member of our Kansas City team coming out and performing an in depth roof inspection to find the problems as well as spots that could be  potential problem areas in the future.
We then will come up with an estimate on how much it will cost you to get your roof repaired and back in tip top shape. We also will provide you with suggestions to help you get the most value out of your roof as possible. These suggestion will include building specific ways to keep your low slope or flat roof in better shape as well as what you should be doing on a regular basis to maintain your roof and make it last as long as possible.
Yes, repairing a commercial roof can be an expensive cost but not compared to what it could cost you if you do not get your problem areas fixed as soon as possible. Wait to fix your problems, and you can expect to spend a whole lot more than just a roof repair bill.
R
eplacing a commercial roof can be a daunting task. The good news is, it doesn't have to be. When you choose we will alleviate the burden and challenge of it having to figure out what to do, by doing the work for you and helping you get through it with our step by step process.
The first thing you will need to decide is if you truly need a full roof replacement by a licensed commercial roofing contractor in Kansas City, or if you just need some simple roof repairs.
When you talk to us, we will have one of our contractors come out and do a full roof inspection to see if you truly need a full roof replacement. If we find enough damage to warrant a replacement then our next step is help you pick out which roof you want and which roof is going to be best for your industrial building.
Once we figure out which roof is best for you, we will help you pick out payment and financing.
Our final step will be to get that new commercial roof replaced as quickly as possible.
C
ommercial roof restoration is the process of sealing all exterior penetrations as well as cracks, flashings, and seems. Then applying a layer of elastomeric coating over the entire roof. This layer application is also known as a "fluid applied roof system. The coating is sprayed in an even layer over the surface of the roof and provides superior protection from temperature changes, moisture, pests/insects/rodents, and even falling debris.
If you're considering a full roof replacement and you haven't taken a look at the option to restore your roof with a protective coating like this, you will be happily surprised at the difference in price. Restoring a roof instead of replacing one can be less than half the cost!
Our recommended local roofing contractors listed above have sealed, primed, and restored countless commercial roofs throughout Kansas City and can take on jobs that most other companies can't.
O
ur custom roof design services are the perfect fit for new construction projects here in Kansas City. We've scouted all of the commercial contractors in KC who specialize in new roof design and installation. A vast array of services is one of the qualifications to becoming our "Best Commercial Roofing Company in Kansas City" and designing and building new roofs is on that list. Therefore, you can feel confident utilizing the services of our preferred roofing contractor mentioned above. The commercial roofers on our roster have designed and installed numerous low-slope and
steep-slope roofs
throughout the metro area.
Whether you're looking for a new roof that falls into the more traditional design or you're looking for something completely unique, our designers will draw out a custom blueprint that will exceed your expectations. While most new roofs in the commercial sector fall under flat or low slope, our contractors are also experts in the following roofing design types:
Gable
Hip
Gambrel
Skillion
Jerkinhead
Butterfly
Bonnet
Saltbox
Sawtooth
Curved
Pyramid
Dome
Combination roof systems
The rating process to determine the best roofing company in Kansas City is fairly simple. Local KC roofing contractors get nominated by their customers or peers in the industry. After we receive all of the nominations, we review the following…