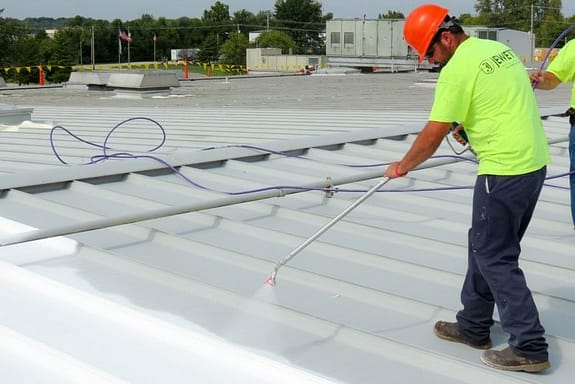 Commercial roof coatings act as flexible waterproof barriers that can be used on existing roof coverings or as a finishing layer to new roof construction. You can most frequently find an extra coat of protection on metal roofs, single ply membranes, modified bitumen, and built-up roofing systems. They're especially useful for extending the lifespan of a roof without having to undergo extensive repairs or a full out roof replacement. Roof coatings are comprised of high-quality resins that once cured, form a durable film to cover small cracks and defects in low-slope or flat roofing systems. There are several different types of industrial and commercial roof coating products on the market with the most common types being acrylic, EPDM rubber, asphalt, polyurethane, and silicone.
Benefits of Roof Coatings
Extended lifespan of the roof
Extra protection from water and wind damage
Saves energy by lowering roof temperatures
Lower carbon footprint
Along with providing a superior waterproofing barrier to the existing framing, commercial roof coatings help to reduce energy consumption by reflecting solar rays, thus reducing cooling costs. Furthermore, by utilizing an additional coating to your commercial roof, you will eliminate waste produced from ripping off your old roofing materials if you would have undergone an entire roof restoration project or a full roof replacement.
Top Brands of Commercial Roof Coating
Black Jack
Lanco
Ames
Henry
Cago
Liquid Rubber
Dr. Fixit
Roofseal
Hydrostop
Uniflex
Roof Coatings for Flat and Low-Slope Roofs
If you choose to apply a coating to your existing roof, either for repair or to extend its lifespan, then you need to hire a professional roofing contractor to do the work. Before the work can begin, there are some things that you can do yourself to help prepare your commercial building for an extra layer of protection.
The first thing you'll need to do is get your roof professionally cleaned. There are many power washing companies in the Kansas City area to choose from if you don't want to do the work yourself. It can take a lot of time and effort to rent the equipment, climb up a ladder with that equipment, and wash the roof yourself. Sometimes hiring someone is just the easiest way to go. Without this step, sealants won't stick to the roof since there will be dirt and debris present.
The next thing you should do is repair all damage to the roof before applying a coat of sealant. Making the necessary repairs will help ensure the longevity of your roof and will also ensure proper application of the roof coating. Using the same roofing company to apply the coating and do the repairs all in one shot is usually the best bet. However, if you're familiar with fixing small defects in your roof and you have the materials to do so, then by all means take this step yourself.
Our featured commercial roofing company listed on our homepage is licensed, bonded, and insured to perform all repairs needed to your roof and apply an industrial/commercial coating over the existing structure. This is also a great final step for new roof construction that calls for an extra layer of protection. Call today for a free estimate.