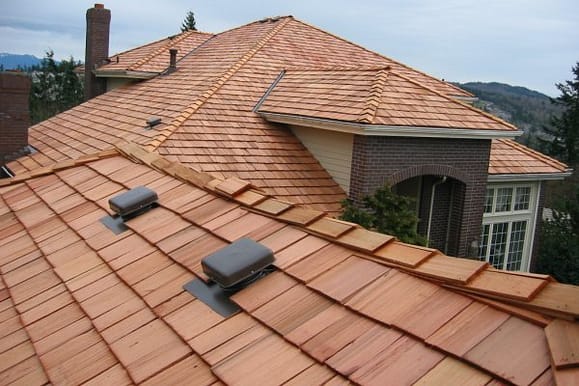 So its come time to get your commercial roof replaced, but the question remains: What type of material are you going to use?
You've looked into all of the common roofing materials but have come down to the conclusion that you think wood shake shingles look the best.
But now you find out there are two types of wood shake shingles.
You have wood shake shingles and basic wood shingles. But which one is better?
Wood Shakes Vs Wood Shingles – What are The differences?
Well there really isn't that much of a difference between the two to the untrained eye. Neither one of them will last as long as a synthetic roofing system, but there's just something special about having an all-wood roof.
Wood Shingles –  These are the more basic form of shingles. These are simple wood shingles that have a smooth and constant look that provide your roof a very basic and uniform look.
Wood Shakes – These are shingles that have been split and carved by machine to give that old exquisite look. This leads to rougher and less constant texture that will make your roof look different than all the others. 
Which Should You Get? 
Our recommendation: IF you are looking for a more modern and simple look then we would recommend you to get wood shingles.
If you are looking for a more complex look that is more traditional and different than the roofs around you then we would recommend going for the wood shakes.
Benefits Of Wood Shake Roofs
1. Aesthetically Awesome
Wood shingles and especially wood shake shingles are one of themes aesthetically pleasing shingles to look at, if not the most pleasing.
If you are wanting your home to stand out then this is going to be the roofing material that I would suggest you to use.
2. Durability
The long lasting durability of woof shingles is also another reason many people love to use wood shake as their go to shingles.
The strength of the strong natural wood will give you a long lasting roof throughout many wether conditions.
3. Excellent Insulation
Wood shake s shingles from natural wood such as cedar. Wood is a natural insulator that keeps the warm in and the cold out.
Installing a wood roof will make certain that you keep the warm inside and the cold outside.
Our wood shake installation process
We always get the best materials for your roof
We will always get the best materials for you roof. We do this to ensure that you get that you get the most out of your roof and that your money goes a long way!
We only work with an experienced team
Our trained professionals have been with us for many many years. We do not hire temps. This ensures that you get best quality work for your money.
Keep you updated along the way
Along the way of the installation process we will make sure that you are informed of everything we do and make sure that every dime you spend is known.
Customer service
We will make sure that all of your questions and concerns are answered and addressed so that you can have a worry free roof replacement!
Wood Shake Roof Installation Cost
So you have decided that the wood shake roof is for you? Next thing is to figure out how much this is going to cost you to get your roof replaced.
Well the thing about this is that it depends on how big your commercial building is. In order to figure out the exact cost, you will need to give us a call and we will get one of our Kansas City roofing contractors out to inspect your roof and give you a better idea of how much your new wood shake roof is going to cost.