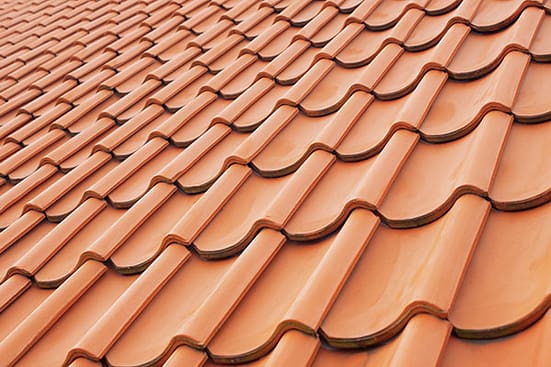 Picking the right commercial roof can be a big budget breaker when looking at the cost of the different varieties of clay tile roofing systems. And, the cost isn't the only thing that tends to be catching towards the eye. The different shapes, colors, textures, and life-span of these materials is what drives the cost up and down.  The investment is a big one and making the right choice is very important. 
What Is A Clay Tile Roof? 
Clay tile roofs go back to over 12,00 years ago. It was a very common architectural material that the Greeks and Romans used in buildings and all throughout the world.
But, for roofs, this natural material is very heavy and is very similar to concrete tile in terms of weight.  Due to this heavy nature of the material, it is important that the roof is built or inspected properly to ensure that it can withstand that weight it will bear with the clay tiles.  
Besides the weight factor, the clay tiles add some spunk and charm to your roof, and are environmentally- friendly!
Benefits of Clay Tile Roofing
With the appearance of the tile being so unique, it serves as an obvious benefit for someone that is looking for something out of the box or a little different than the average Jo.  The eye catching design, and uniqueness of the shape gives good touches to a Mediterranean or Spanish style house. 
To start, unlike asphalt roofing systems, clay tiles are most widely known for their longevity.  We can talk about that a little bit later on. Aside from that, a clay tile roof includes these benefits listed below. 
   

Longevity (long-lifespan)

   

Buffer against extremes of the cold/hot temperatures

   

Resistant to high wind damage

   

Fireproof

   

Rot-proof

    Low Maintenance
Clay Tile Roofing Life Span 
Like stated earlier, their longevity is what they are most known for.  They can last up to about 40 years if they are maintained properly, and installed by a licensed, bonded, and insured Kansas City roofing contractor. Wrong installation of these could lead to issues with the roof down the road. 
Cost Of Clay Tile Roofing 
Just like anything else, when an item has better quality and a longer life span, one is going to be paying a pretty penny for it.  It all depends on how much you are willing to pay upfront.  
For a roof that may not last as long, has some issues with the extreme temperatures, or just flat out rots out over time, the upfront cost for these roofs is going to be way cheaper.  You get way you pay for! Crappy material = small amount to pay. Great material = large amounts to pay.  
On the flip side, if you want one with all the longevity benefits, the price is going to go up.  But, that means there is a less likelihood that you will have to replace that roof. With the cheaper roof, they may be looking to replace their roof in 10-15 years.  
In the long run, the spending may be about the same but spending the extra bit of cash for the clay tile roof, could be less of a hassle to deal with down the road.