Commercial Roof Maintenance in Kansas City, MO
We've all been there… stuck looking at the commercial roof inspector holding the estimate on how much its going to cost to get your commercial roof repaired.
And more often than not roofing problems, especially with commercial buildings, typically do not appear until it's too late.
Especially in the Kansas City area where we have some of the most brutal and dry winters that cause the roof material to constrict and tolerances to tighten up..
This is why we believe in proactive commercial roofing maintenance in order to help prevent the irreversible issues before it's too late. Just think, if you are not proactive about keeping your roof maintenance in check, you could be risking yourself a huge repair bill.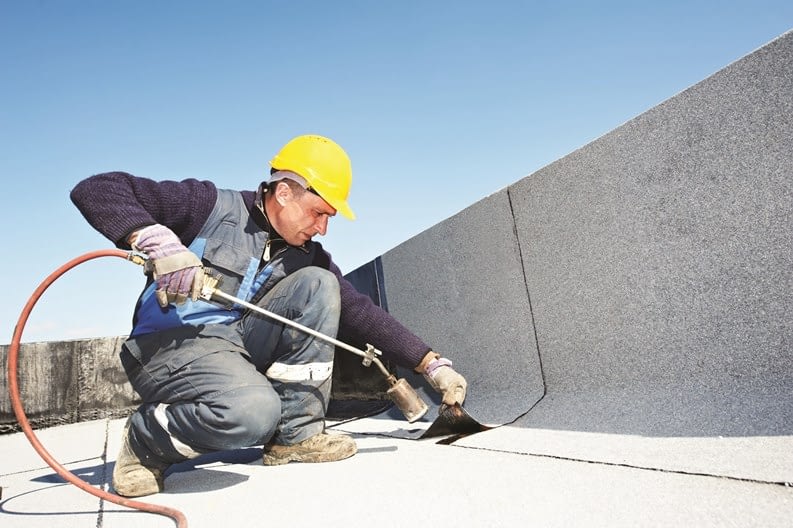 Proactive Vs Reactive Roofing Maintenance
Unfortunately, as we said, most people are not proactive about maintaining their roof and in turn this causes small problems to turn into bigger problems that cost them a big chunk of change.
Proactive roofing maintenance is the approach that we suggest out customers to take to help save them some big bucks. By being proactive with your roof maintenance you are inspecting your roof bi-annually and making sure that the roof's small problems do not turn into bigger problems.
Reactive roof maintenance is the approach that most people take. This is never taking the time to get your roof inspected, waiting till problems arise, and then spending double what you normally would have to if you took the steps to be proactive about maintaining your roof. If such problems occur, check out our recommended commercial roofing company on our homepage.
How We Maintain Our Commercial Roofs Here in Kansas City
Perform a Full Commercial Roof Inspection

– Before we do anything else we always perform a full roof inspection to make sure there are no existing issues that could cause any future damage to the building.

Keep Trees & Limbs Trimmed

– Any trees, branches, or limbs that are close to the building need to be trimmed far away from the roof to prevent them from causing damage.

Check Gutters & Drain Ways

– Any and all gutters, water drains, and places where water and debris can sit will be checked to ensure that there is nothing that can cause damage to the roof.

Check for Streaking of Moss & Algae

– We always look closely at the color of the roof and make sure that there is no streaking. Areas like Kansas City where there are lots of shade can cause the roofs to streak with mold, algae, fungus, and more. When this happens you will notice that there are lines where the color of your roof has faded. This is called roof streaking.

Re-Caulk if Necessary

– If low grade caulk was used when the roof was initially repair or put together then this might need a refresh to prevent the caulk from losing its seal and damaging the roof.

Check For Proper Insulation

– Always be sure to check that your roof is getting proper ventilation. By doing this, it keeps your roof from storing moisture and forming ice mounds that could damage your roof. This is especially important in the Kansas City area as we have some of coldest winters around.
Kansas City Service Area
Liberty, Parkville, North KC, Westport, Brookside, Crown Center, Country Club Plaza, Independence, Lee's Summit, Blue Springs, Raytown, Grandview, Midtown & Crossroads, Downtown KC, Gladstone, River Market, Brookside, and more!