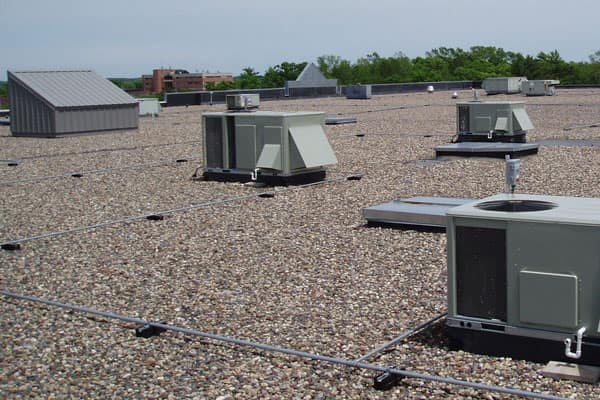 Commercial roofing contractors will typically use built-up roof systems when constructing new flat or low slope roofs on commercial projects. These are also known as "tar and gravel" roofs and are made up of alternating layers of reinforced fabrics and bitumen to create a waterproof membrane. Built-up roofing systems (BUR) have been the industry standard for commercial roofs for over a century and will most likely continue with that trend moving forward.
Built-Up Roofing Systems for Flat Roofs
Experience has proven that an absolutely flat roof leads to trouble. To avoid standing water which eventually causes leaks, a roof must have a minimum pitch of 1/4 inch per foot. If a contractor is reroofing, additional sheathing can be used to give the roof the minimal incline.
Roll roofing and built-up roofing are the most common techniques used to cover flat roofs. Of the two methods, roll roofing is quicker and easier to handle. Built-up roofing requires special equipment that cannot readily be rented. You need to hire a commercial roofing contractor to do the job.
The Lifespan of Built-Up Roofing
Depending on the materials used, the average lifespan of a built-up roofing system is anywhere from 15 – 30 years. If quality products are used by an experienced commercial roofer with a keen eye for detail, then a BUR system can last longer. The harsh temperatures of Kansas City during the winter months aren't friendly towards these types of flat roof systems. As the temperature drops, you can experience open joints, and cracks. Then, when the temperature rises again, you'll find blisters and undulations or waves in the surface of the roof. This is due to Kansas City's hot humid air constantly attacking the roofing materials after they have been previously degraded by the extreme cold.
Depending on the climate and the specific materials used, built-up roofing has an average life expectancy of 15 to 30 years, but some constructions can last up to 40 years. In general, built-up roofing tends to fare better in warmer climates than in cold regions. This lifespan makes built-up roofing comparable to composition (asphalt) shingles, which last between 15 and 30 years, depending on their quality.
Flat Roof Repairs With Built-Up Roofing Systems
One of the most common types of flat roof repair our contractors deal with is with built-up roofing systems. Damage to this type of roof or other low-slopes i.e. TPO or PVC roofing systems, need to be repaired immediately to prevent further damage to the rest of the roof including the actual roofing structure below the membrane. Most of these repairs are simple and shouldn't cost you too much.
Typical BUR System Repairs
Open Joints: A commercial roofer will repair seams and joints that have separated by adhering cement to the substrate. If this isn't possible, a layer of fabric (nailed down) will be used first to hold the cement in place. To allow it to dry, the contractor will spread gravel over the spot.
Blisters: The roofing contractor will cut the blister down to the layer that hasn't been affected by moisture. After the area has been exposed to fresh air and allowed to dry, the existing plies are removed and new felt is adhered to the area. After that, its just a matter of applying new asphalt with a finishing layer of fluid coating.
Waves and Undulations: This is more of a cosmetic problem than anything. The contractor will first make sure there are no serious threats to the built-up roofing system itself. If no serious changes to the structure is needed, then additional layers are simply added to the top layer to even out the surface of the roof.
Cracks: Coats of asphalt and cement are added to any cracked area of the built-up roof. This is a very easy fix. The contractor will apply several layers over the cracked roof material and will then lay gravel over the area.